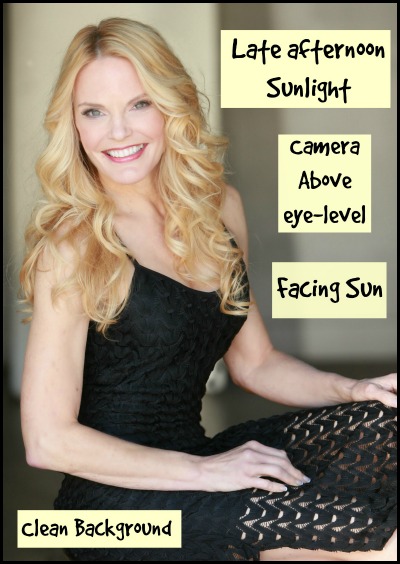 Recently, I had a photo shoot – to get some fresh current pictures for my websites.
The photographer was AMAZING (very skilled and gifted) and I'm thrilled with the shots.
But The Best Thing about the photo session was that he taught me a few very simple tips that anyone can use for taking excellent pictures and videos! (even selfies!)
And now I'm going to share them with you 🙂  (Wow! They make SUCH a difference! If you think you're not photogenic –just wait 'til you implement these tips.)
Whether it's for your website or marketing, or just family photos – remember these few important things next time someone pulls out a camera:
1 – Lighting is EVERYTHING
The type and location of the light can mean the difference in looking like a skin care model OR a zombie.
A. Backlit Lighting – Horrible! The biggest mistake everyone makes!
Never shoot with a window or light BEHIND you. Regardless of how great the view is out the window – you'll look dark faced and scary standing in front of it. Turn around and face the window for your shot (and get close to the window…it might feel weird but it works) and watch your wrinkles disappear!
 B. Overhead Lighting – Horrible
Light directly overhead is NOT good. It creates shadows and you'll look tired. This goes for outdoor shots too – avoid "noon" when the sun is directly overhead. Mornings and dusk are Terrific times for outdoor shots (always face the light.)
C. Front Lit – Tada! (You'll look incredible… like, "are you a super model?")
Point the light directly at your face (not so close that you get shiny with reflections.) This works for video, photos, Skype, Facebook Live… get a light behind the camera and pointing at you (like the "stand facing the window" example above.)
2 – Camera Position

Have the camera slightly above eye level… this helps with the neck looking smooth and keeps people from seeing up your nose.
3 – Where to Look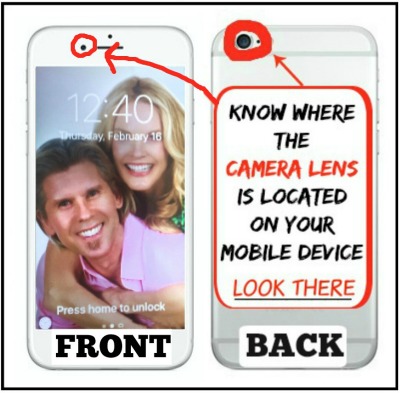 Look directly into the camera lens – this is especially tricky when on a mobile device.
You need to know exactly WHERE the eye of the camera is (it's often in a corner on a mobile device) and look THERE. (You wouldn't want to look in the middle of your phone when taking a shot or you'll look cross-eyed since the lens is in the corner.)
Of course with a NORMAL camera – just look right into the lens.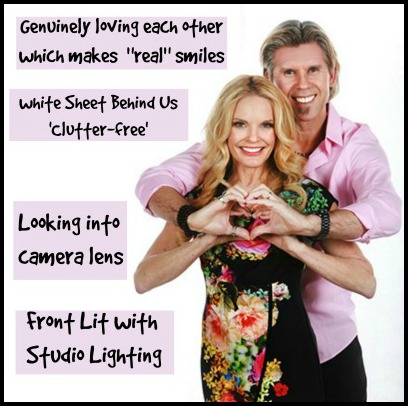 My husband Tristan Truscott joined me for this shoot!
4 – Check Your Background

Make sure you don't get an incredible shot only to discover that a tree branch behind you looks like it's sticking out of your head. Clear the clutter when possible.
5 – Genuine Smile

No one likes a grumpy-grump OR a fake plastic smile.
Think about your dog, your kids, that private joke you can't tell anyone – and let your face genuinely smile. RELAX and then smile again…don't hold a fixed smile because it's unnatural.
There you have it…5 simple tips that will make you instantly more "photogenic."
Now pay attention to the photos you see everyone posting and see which ones you LOVE and then see how many of the ones you really love follow these simple rules.
I love talking about this type of stuff so let me know in the comments below if you have any questions or need any additional help.
Want more free tips on how to create a wealth consciousness and an abundant work-from-anywhere online business? Subscribe here for free updates!