Imagine this…
One evening, you're out walking the dogs around the block and you find a dusty old-time, oil lamp that someone has set out by the curb.  It's beautiful! And you can't imagine why they are throwing it away. So you take it home and polish it up… but when you start rubbing it, a genie appears!  
The genie says, "I will grant you three wishes. You only have to tell me what you want." 
And you answer, "… er, well… OK, but how do I know what I want?"
Sounds crazy, doesn't it?  But oddly enough, that's a question I get asked A LOT from my clients and students.
So if you have ever found yourself wondering that, you're not alone. In this episode, I share my insights and experiences on why so many people have this problem and what you can do about it.
After watching, read my 'notes' below the video and then scroll to the bottom of the page to leave a comment.Or, scroll to the bottom of the page to read the transcript.
So the next time you stumble across Aladdin's Lamp, don't second-guess yourself!
Don't try and figure out what the optimum three wishes are, or if you can 'game the system' somehow and get more than three wishes – or any of the other mind games that can spin you around until you aren't sure what you want.
Even if you DON'T find Aladdin's Lamp, the first step is always to be honest with yourself about what you really want in life – and then OWN the fact that you're already clear about what it is that you want.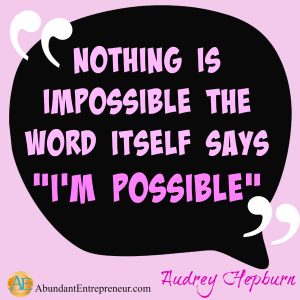 If you already sense what your purpose in life is, don't psych yourself out.
Don't settle for less just because other people tell you it's not possible.
That's just one more voice telling you to settle.
But really, it's an excuse for you to put off taking action.
How often that happens! We're given a once-in-a-lifetime opportunity and, instead of taking that leap and going for it… we hesitate.
Because remember… after all, everyone says it's not possible.
And, you know… for them, maybe it's NOT.
It's not their dream.
Be strong. Honest about what it is that you want. And go for it!
Got a minute to share your thoughts or dreams?  Please leave a comment below. We'd love to hear them. One of the great things about a community like this is that we can share in each other's dreams and piggy-back on one another's experiences.  You can find inspiration anywhere. And BE inspiration everywhere.
Note: Please know that we greatly appreciate all of your thoughts and ideas but to try and cut down on people trying to spam our site, we automatically delete comments with links to websites or videos on other sites.
As always, we want to thank you for being part of the conversation – whether reading, watching or listening. We appreciate that everyone chooses to participate differently and we celebrate the uniqueness of the way that you choose to participate with us.
Want to read the transcript? Click here.