We all have people in our life that influence us greatly. Maybe people that we've never even meet in person but whose words and actions inspire us to be better. Brian Tracy is one of those people. He is the mentor to the mentors. The icon to the icons.
Recently, we were both at the same event and got up the courage to ask him to do this interview. I mean, come on, he's mega-famous for teaching and inspiring people to start their own business – so who better to talk to us about how to do that, right? From start to finish it is filled with Pearls Of Wisdom – you will LOVE it!
After WATCHING the interview, read my 'notes' below the video and then scroll to the bottom of the page to leave a comment.Or, to just READ the highlights, click the link at the bottom of the page.
Great, right? Brian has a way of talking very simply and getting right to the point.
Brian has a habit of saying things that, once you hear them, you think, "Oh, well that's common sense." Well, yeah… after you hear it, it seems obvious. But were you thinking of it that way before you heard it?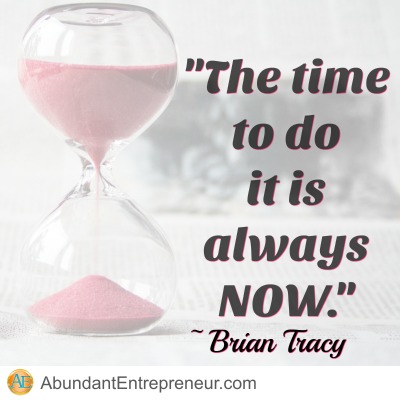 For myself, I really loved the point he made when he said, "The more businesses that you attempt, the more ideas that you look at – the greater is the probability that you'll come up with the right one at the right time."
I mean, it makes perfect sense. But most people think in terms of the ONE perfect thing. And you might stumble onto that right away. But more than likely, you'll find some OK things or some NOT-QUITE-RIGHT things along the way.
Thomas Edison is quoted as having said, "I have not failed. I've just found 10,000 ways that won't work."
So don't put so much pressure on yourself that things have to be perfect. Because everything that you do and everything that you learn increases your chances of finding that one idea where everything 'clicks.'
And I've often found that, even though something may not be exactly right, by taking action on it, I'm led to something even MORE wonderful than what I was intending in the first place.
So, what about you? How many ideas do you have that you don't take action on because you're not sure if it's "the right one?" Or have you ever taken action on a bad idea, only to find that it opened doors to you that would have been closed if you hadn't? Have you ever thought of keeping an Idea Journal so those ideas don't just get lost in the shuffle?
Please feel free to share how you handle or act on your ideas in the comments below. Or, if you were touched or inspired by this interview, share that. Or, if you simply want to share love, share that.
Note: Please know that we greatly appreciate all of your thoughts and ideas but to try and cut down on people trying to spam our site, we automatically delete comments with links to websites or videos on other sites.
As always, we want to thank you for joining the conversation – whether reading, watching or listening. In whatever way you choose to participate, we celebrate you and what you bring to the table.
Looking to read highlights of the interview? Click here.
Grab Your FREE Copy!
About Brian Tracy
Brian Tracy is one of the world's top professional speakers and the Chairman and CEO of Brian Tracy International. He is also the author of over 70 books on self-development, time management and leadership. His most popular books include Earn What You're Really Worth, Eat That Frog!, and The Psychology of Achievement. As a friend of Abundant Entrepreneur, he would like to give you with a copy of his ebook, "The Power of Habit: 7 Steps to Successful Habits."
Grab Your FREE Copy!