Karl Moore's credentials are certainly impressive, but even more impressive is that when his name comes up near anyone that knows him, you immediately hear, "Oh! I love Karl!  He's fantastic!"
Karl has that effect on people, not just because he's very personable, but because he genuinely cares about helping people to better themselves and their situations.
When I ran into Karl at a mastermind event we were both attending, it seemed like the perfect opportunity to get some new insights from someone that KNOWS (from personal experience) what you need to do to have your own time-freedom, work-from-anywhere online business.
After WATCHING the interview, read my 'notes' below the video and then scroll to the bottom of the page to leave a comment.Or, to just READ the highlights, click the link at the bottom of the page.
That's great advice to take to heart in your personal life as well as your business. In your personal life, don't miss an opportunity to let someone know that you love them.  And in business, share what you love and share THAT you love.
In preparing to share this interview with you, I got to listen to it again – and it seems so perfectly "crafted" in the way it ends where it began. Let me explain…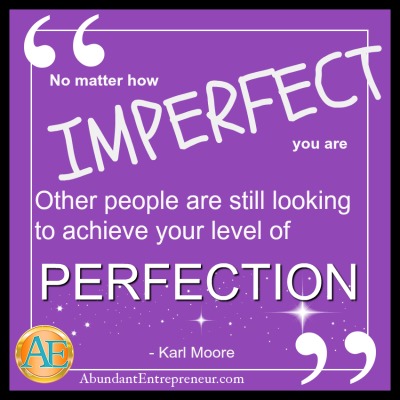 One of the first tips that Karl shares is to "stop feeling sorry for yourself and you'll be happier."
Now that's great advice just by itself -when applied to your personal life or your business.  But when you combine it with his last statement: "No matter how imperfect you are, other people are still looking to achieve your level of perfection."
See what I mean?
It's only later (in hindsight) that I really saw that the whole interview was about being grateful and loving yourself.  And remember… this is BUSINESS advice!
Don't forget that! At the heart of every business decision is a real live person making that decision. That's the heart of every decision and every choice you make.

And the people you are talking to – your customers, your clients, your co-workers or partners – when you talk with them you are talking to a real person. Not a potential sale. Not an obstacle. Not a problem to be solved. You are talking to a heart that is at the center of all of THEIR decisions and choices.
Just that one little insight can radically change your dialog with others. It can change your sales copy and advertising. It can change the tone of your business meetings. It can change everything.
And trust me — if you can make the HEART connection with others. The rest of it will take care of itself.
Have you notice that in your own business or in your own life?  Have you ever had a situation or conflict radically change simply by changing the way you thought of it?
If so, please feel free to share it with us in the comments below (and share as much detail as possible.) Or, if you were touched or inspired by this interview, share that.  Or, if you simply want to share love, share that. That's really the point of all of it anyway. 🙂
Note: Please know that we greatly appreciate all of your thoughts and ideas but to try and cut down on people trying to spam our site, we automatically delete comments with links to websites or videos on other sites.
As always, we want to thank you for being part of the conversation – whether reading, watching or listening. In whatever way, to whatever extent that you join in with us, we celebrate the uniqueness of the way that you choose to participate with us.
Looking to read highlights of the interview? Click here.
Free Gift
About Karl Moore
Karl is an entrepreneur, best-selling author and is responsible for the Zen12 Brain Evolution System. Karl is gifting our AE community with a no-cost sample of his Zen12 brainwave meditation. The science behind it is fascinating. Use it to put yourself in 'The Zone' for the rest of the day. Click the "Free Gift" button to find out more and to get your free sample.
Free Gift