Early one morning, while attending an event in Las Vegas, I ran into my good friend Sonia Ricotti in line at Peet's Coffee Shop!
If you don't know Sonia, she is a #1 bestselling-author and motivational speaker that helps people 'Bounce Back' quickly after life knocks them down. But perhaps most importantly to our Abundant Entrepreneur community, she also teaches people how she rose to success by implementing online business and marketing strategies.
So… as you do at 6am while waiting for your Latte… I asked her how her business was doing…and WOW! The successes, strategies, and growth she shared with me was so invigorating – I no longer needed that cup of java to get going! 😀
I asked Sonia if I could kidnap her for a few minutes — later in the day ; definitely not at 6am– to share some of her insights with you. I always enjoy hearing how those who have succeeded break down HOW they achieved that success, and WHAT they considered critical for those just starting out. Watch and see what Sonia had to share…
After WATCHING the interview, read my 'notes' below the video and then scroll to the bottom of the page to leave a comment.Or, to just READ the highlights, click the link at the bottom of the page.
So many jewels in this!
One of the parts I really loved was when Sonia underlined the fact that all anyone needs to run an online business is a computer, and internet access.
Isn't that incredible?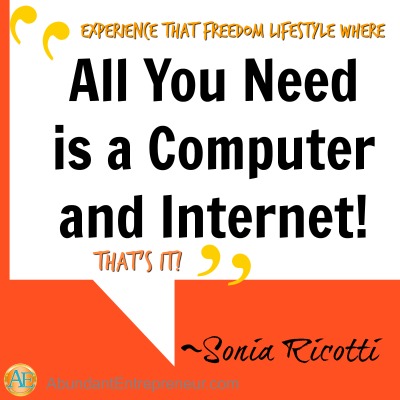 Think about it…that in today's world, you can run your own business from home – with all the freedom that that lifestyle allows – and all you really need is a computer and the internet!
I mean, of course you need to know HOW to do it, but you can LEARN that!
Ben Franklin said, "An investment in knowledge always pays the best interest."
But never before in the history of time has investing in learning something had the potential for such immediate and overwhelming returns on your investment!
(and I am speaking from experience here! I have no education using a computer and I type with 2 fingers but I LEARNED a handful of necessary skills and now I have a very successful online business)
What about you?  Do you feel inspired to share something?  If so, please take a moment to comment below (and share as much detail as possible.) We would love to hear how you might have been touched or inspired by this interview. Plus, your comments, insights and ideas might really help someone else!
I remember being in school – so many times it was a question or comment that another student made that really made things "click" for me. So don't hold back on sharing because it might be just what someone else needs to hear also!
Note: Please know that we greatly appreciate all of your thoughts and ideas but to try and cut down on people trying to spam our site, we automatically delete comments with links to websites or videos on other sites.
As always, we want to thank you for being part of the conversation – whether reading, watching or listening. We appreciate that everyone chooses to participate differently and we celebrate the uniqueness of the way that you choose to participate with us.
Looking to read highlights of the interview? Click here.
Free BOOK!
About Sonia Ricotti
Sonia Ricotti is a"Bounce Back" expert and #1 bestselling author. Her phenomenal trainings, programs and webinars have helped millions of people around the world create extraordinary lives beyond their wildest dreams.
Go Here to Grab Your Free Copy of her NEWEST edition of her book "Bounce Back BIG in 2017" and discover the miracle blueprint to turn your life around FAST and achieve your wildest dreams!.
Free BOOK!