"Whatever you do… whatever your passion is… whatever you feel good about… whatever your contribution is… embrace that!" – It's no wonder that I'm always so delighted to talk to Dr. Steve G. Jones.  And this time is no exception.
Steve is a renowned hypnotherapist and the author of many, many books – but I think what excites me the most when I sit down with my friend, is the opportunity to bring his tremendous wit and insight to you on the topic of how simple it is to make money online.
People say that the easiest way to succeed is to copy someone that has already done what you are wanting to do and Steve is definitely one of the stars in this area.  I can't wait for you to hear his story.
After WATCHING the interview, read my 'notes' below the video and then scroll to the bottom of the page to leave a comment.Or, to just READ the highlights, click the link at the bottom of the page.
Does that leave you feeling EMPOWERED?
It should.  Really think about that.
Everything you need, you've already got inside you.  Just embrace it and share it!  That's really the secret to succeeding in any business – online, brick-and-mortar, start-up or established. It all comes down to what you have to offer and figuring out how to share that with the world in the most effective way possible.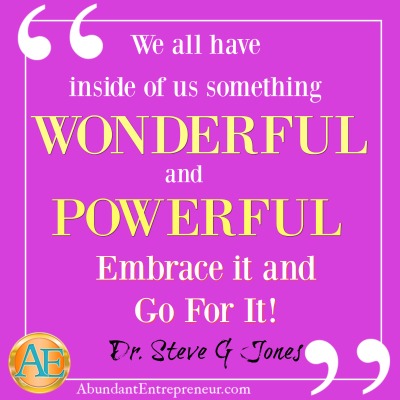 Think about your own life.
What did you do for fun this week? What got you excited? What did you feel a tingle of anticipation about when you thought about getting to do it?
Or, what did you excel at?  What is that one thing that you do so easily that seems to stump other people — and you don't understand why they are making it so much harder than it has to be?
There is a genius in you.  A talent, or ability, or knowledge that is so familiar to you – that you do so easily, you may not even think about it as an ability. It just seems normal.
So, take a few moments over the next few days noticing the things that come easily to you. The things that other people might ask you to help them with.
These "hidden treasures" are really important for you to recognize.  Because if you're not already incorporating them into a business or revenue-driving opportunity, it's the perfect time to start!
Was there something in the interview with Steve that really touched you or inspired you?  Don't be afraid to share! Scroll to the bottom of this page and leave a comment. It not only helps me know what you like (and what to bring you more of) but your words might be the exact thing that someone else needs to hear.
Note: Please know that we greatly appreciate all of your thoughts and ideas but to try and cut down on people trying to spam our site, we automatically delete comments with links to websites or videos on other sites.
You are a unique and integral part of this community so THANK YOU for reading, watching and joining the conversation at whatever level you choose to participate with us!
Looking to read highlights of the interview? Click here.
Want more free tips on how to create a wealth consciousness and an abundant work-from-anywhere online business? Subscribe here for free updates!
About Dr. Steve G. Jones, Ed.D.
Practicing hypnotherapy since the 1980s, Steve is the author of over 22 books on Hypnotherapy. He brings his work to a mass audience by offering his custom hypnotherapy CDs and MP3s online. In fact, he is the creator of the largest set of hypnosis recordings in the world. For a free gift and to learn more about Steve, visit
:
betterlivingwithhypnosis.net