If the opportunity comes up to pick the brain of someone who is successfully doing what you want to do… Take advantage of that! And if they happen to be dynamic, funny and bring a lot of practical advice and real-world insights… you've struck gold!!
In this episode, we really hit the mother lode with Carl Harvey. Carl pulls from his successes and stumbles (both online and offline) to dish out some insightful and inspiring advice for anyone thinking about making money online. And he's so dynamic and personable that, even if these are new ideas or concepts to you, he actually makes you forget how much you're learning.
After WATCHING the interview, read my 'notes' below the video and then scroll to the bottom of the page to leave a comment.Or, to just READ the highlights, click the link at the bottom of the page.
Carl is so inspiring, isn't he?  I love how he says that people are "waiting for that one beautiful moment of clarity" when, for most people, it's more like, "Well, I hate this. What's a little bit better than this?" And then we do that.
So true. That's the story of progress. Everything can be broken down into little, less-scary, bite-size pieces so that you can take SOME kind of action immediately.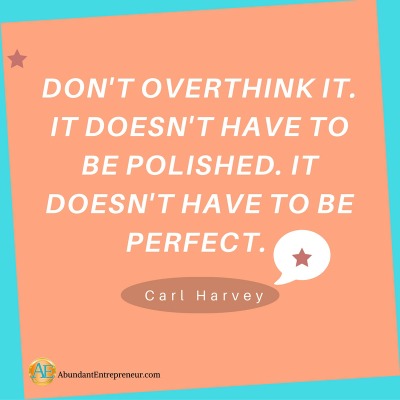 Again and again, the message comes through: Don't overthink it.
Actually, it might be phrased in different ways, but we hear that from almost everyone we talk to.
Take action now.
Forget perfection.
Stop judging yourself.
Allow your inspiration to come through as action.
Trust that thing inside you that wants to be shared.
There are always going to be things in front of you, that can either be excuses, or they can be challenges.
As excuses, they give you nothing. You don't take action and you stay exactly where you are.
As challenges, you're invited to rise. And maybe something is just a little beyond your reach. Just a little out of sight. But you won't know how close it is until you take a step up.
Or even just stand on your toes and look around.  It doesn't matter how small the action. Just by starting you set up that vibration for more.
Has that ever happened to you?  Have you thought something was beyond reach only to find out that when you reach out, it wasn't really that far away?  When you look at possibilities, are you looking at possible solutions? Or possible excuses?
Have courage.
Please feel free to share in the comments below. If you'd like, consider it an opportunity to enCourage yourself. Or enCourage others.
Note: Please know that we greatly appreciate all of your thoughts and ideas but to try and cut down on people trying to spam our site, we automatically delete comments with links to websites or videos on other sites.
As always, thank you so much for joining the conversation – whether it's through reading, watching or listening. In whatever way you participate, we celebrate you and what you bring to the table.
Looking to read highlights of the interview? Click here.
Learn More
About Carl Harvey
To take a peek at how Carl works his craft, you can visit him at
thebiglife.com
.  On his uncensored chat show, The Big Life, Carl will introduce you to some of the hottest names in the personal growth industry. And you'll also get a chance to see how Carl lives every day with total abundance, purpose and unlimited success.
Learn More